Have you played Prison Architect? No? Well I have and it's great. Here's a few reasons why I think you should. Consider it a game recommendation from yours truly…
Prison Architect was one of my favourite games of 2015. From the art-style to the gameplay mechanics themselves, Introversion Software have done a great job making Prison Architect extremely fun to play. I mean, who doesn't like the thought of building and running their very own prison from the ground up? Execution Rooms included. If you own a PC and are a fan of tycoon or building games, you should definitely give Prison Architect a try.
In Prison Architect, you start with an empty plot of land and your job is to construct a prison to keep the undesirables off the streets and locked away behind bars. There is a Campaign Mode to Prison Architect which acts as more of a tutorial, walking you through all of the game's different mechanics and scenarios, of which there an awful lot. It's a very detailed and thoughtful game despite taking a slightly humorous approach to prison life. There are cut scenes which are very well done showing you how certain prisoners became inmates. Without too many spoilers, your first task is to construct a working execution room to execute a death row inmate. The backstory is that he came home and encountered his wife in bed with another man. That's enough to make most guys go insane, but this fellow couldn't handle it and went about killing both of them right there and then, on his bed. I guess he slept on the couch that night.
In addition to Campaign Mode, there is sandbox mode which is where you'll spend most of your time. You can customise a range of different settings, from your budget, gender of your prisoners as well as the size of your map and a few other nice touches. Playing with a budget is extremely hard I must say but is a challenge I relished. You have to treat running a prison like a business rather than, well, running a prison. Sort of. You do still have to run a prison. It's realism to the highest degree though. I mean, how many of our public services are run as businesses these days instead of actual services? Unlimited Funds however, allow you to set about creating the mightiest and tightest prison imaginable. The name Prison Architect suggests you'll be building prisons and that you certainly do, but there is a lot more to the game than just building a prison and It's truly amazing to see some of the prisons others have created which have been shared through the Steam Workshop.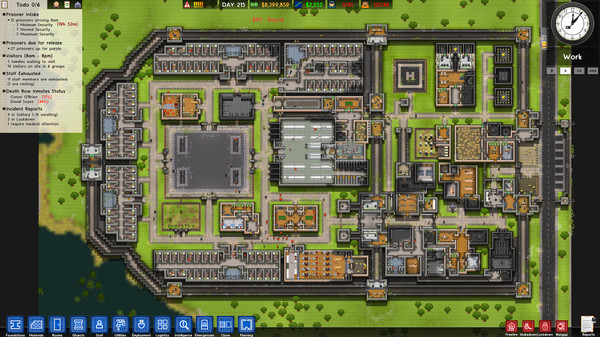 Each prisoner in Prison Architect has a backstory, often a little comical but interesting to read nonetheless and gives the game and its prisoners a personality. It's easy to sometimes see them as just sprites on a screen but they are humans at the end of the day with needs and desires. It's up to you how much of those needs you fulfill. Prison Architect gives you the choice to be a no nonsense Warden with strict schedules. Work hard and work harder is the motto. If you're a little softer than that, you can give them bookshelves and make their cell a home from home, allow them to have lots of free time, receive visits from family and friends and even run programmes in the slightest hope that once they wave goodbye to you and your guards, you won't be seeing them walk through the front gate in an orange jumpsuit days later.
Forget about Campaign Mode or Sandbox for a minute though as Prison Architect has another ace up its sleeve. Escape Mode. I love Escape Mode and have probably spent the same amount of time, if not more, playing as a prisoner trying to escape from other people's prisoners than I have spent building my own prison. To access Escape Mode, you need to go the menu and select Extras. I'd have put it right in the main menu personally as it's a terrific little mode that's for sure. It's addictive getting a crew of prisoners, leveling them up, giving them abilities and then seeking our escape, mainly through brute force though. You can start prison riots, attack guards, hide weapons in your cell. It's not The Escapists level of detail, but it's addictive and fun. You can also play as a prisoner in your own prison if you prefer that than escaping from someone else's version of Alcatraz.
Prison Architect is a great little gem available on Steam right now. It left Early Access in October 2015 and is definitely worth playing. If you don't have access to a PC, Prison Architect will be making its way to PS4, Xbox One, Xbox 360 and PS3 later this year, so be sure to keep an eye out for that.