2020 brought a massive change to the political sphere and sent shock-waves around the world, and this year looks set to be no different. If you're looking to scratch that itch and see if you can do better than our current leaders, then take a look at these political games that are sure to answer your question of whether or not you can "do any better".
Geopolitical games are hard to come by with the market for such games being very niche; however, we've managed to uncover ten gems that we consider to be the best political games that you can play in 2021.
10) Superpower 2
Superpower 2  is a geopolitical simulation game that allows players to take the reigns of a country of their choosing. There are 193 countries to choose from with players having to take control of the political, economic and military aspects of their country. World leaders have a variety of different options that they can use, ranging from changing the tax rate to building infrastructure to foreign policy and even expanding your nation's borders by force. Superpower 2 allows for a number of playstyles, and despite being released in 2004, the game still holds up well to this day and for the price is well worth checking out.
Release Date: 2004
Price: £8.99
Want to buy Superpower 2? Click Here.
9) Tropico 6
Tropico 6 is an excellent political game that puts players in the shoes of a dictator on their own Caribbean island. From here, it is up to you, El Presidente, to build up your nation and help your people to prosper. You can rule with an iron fist, be more liberal or sit somewhere in between, the choice is yours. While at its heart Tropico 6 may be considered a city building game, there are a number of political aspects that make Tropico 6 a must play for anyone looking for a good political simulation game. There are a number of different edicts and policies that players can enact for starters, as well as elections which you can choose to fix or not. You can even build up your own Swiss bank account. What kind of politician would you be if you didn't have one of those anyway?
Release Date: 2019
Price: £34.99
Want to buy Tropico 6? Click Here.
8) Supreme Ruler Ultimate
Supreme Ruler Ultimate does exactly what it says on the tin as it places you as the supreme ruler of any country of your choosing. There are also various scenarios included which allow you to start the game in a number of different years allowing players to play a historical or futuristic game. As expected, Supreme Ruler Ultimate gives players the freedom to lead their country how they choose with a variety of internal policies and actions on offer to tailor your country to your vision. Not only that, but foreign policy and trade also play a big role in the game, giving even more options to lead how you want.
Release Date: 2014
Price: £22.99
Where can I find out more information? Click Here.
7) Total War: Three Kingdoms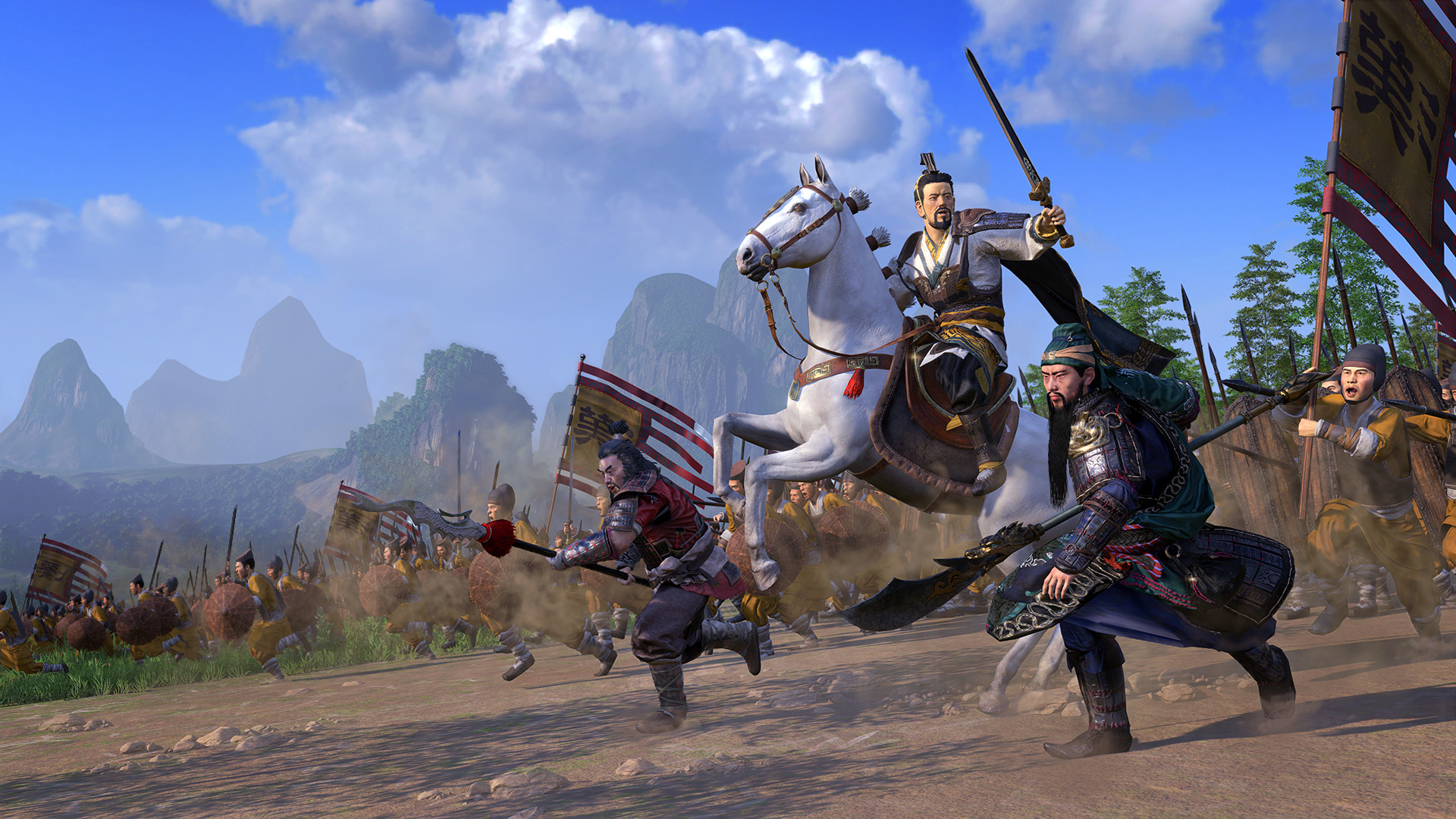 At first, you may not consider any entry in the Total War franchise to be a political game. While that may have been true, Total War: Three Kingdoms offers the most complex and in-depth politics of any Total War game to date. Set in China in the year 190CE, Three Kingdoms mixes a feature rich turn-based campaign with the real-time strategy combat we've all come to love. As a ruler of your choosing, you must build up your kingdom as you fight to become the emperor of China. However, unlike previous Total War games, the political aspect in Three Kingdoms forms a key component of the game with players having to appoint members of their court to a variety of positions while trying to keep all of them satisfied in their role. Diplomacy is also much improved and allows players to manipulate, or be manipulated by the AI.
If you're looking for a game that allows you build up an empire, fight real-time battles while still having enough political features to manage to keep you busy for hundreds of hours, Total War: Three Kingdoms is for you.
Release Date: 2019
Price: £44.99
Want to buy Total War: Three Kingdoms? Click Here.
6) Urban Empire
Urban Empire is a cross between a city builder and a political simulation game. You play as the mayoral dynasty of a city and must lead your citizens through 200 years of history. As the mayor of the town, you grow from humble beginnings into a thriving city by establishing infrastructures and placing key buildings, creating city districts, bringing in new laws and technology, as well as debating in the town hall to get your laws and funding passed. There are also various other options available to players, including being able to bribe and blackmail opponents to get your laws passed.
Be warned though, Urban Empire is a tough game and can be infuriatingly frustrating depending on whether or not you're looking for a political game that makes it easy to get stuff done or if you're happy to constantly face challenges getting your policies through, just like in real life. Unless you're a dictator in which case I'd assume it's rather more straight forward.
Release Date: 2017
Price: £22.99
Want to buy Urban Empire? Click Here.
5) Europa Universalis IV
Europa Universalis IV is a cross between an empire building and a political game, giving players the opportunity to create an empire that stands the test of time while also guiding their nation through centuries of discoveries, wars and internal changes. Europa Universalis IV has everything from diplomacy, trade, warfare, research and exploration, as well as allowing players to build their empire the way they see fit. The game gets even better when combined with some of the expansions that have released over the years, all of which add new features and choices to the game.
Release Date: 2013
Price: £34.99
Want to buy Europa Universalis IV? Click Here.
4) Crusader Kings III
Crusader Kings III is similar to Europa Universalis IV; however, instead of allowing you to start the game by ruling an empire or kingdom, Crusader Kings III allows you to create your very own dynasty. From here you can expand and create your very own empires and kingdoms with more focus placed on you as an individual ruler. Some of the things players can do in Crusader Kings III include filling your coffers, appointing vassals, rooting out traitors and heretics, introducing laws, as well as interacting with hundreds of nobles, each with their own agendas.
Release Date: 2020
Price: £41.99
Want to learn more about Crusader Kings III? Click Here.
3) Rogue State
Rogue State is a gem of a game that has gone relatively under the radar since it came to Steam in 2015. Unlike most geopolitical games, Rogue State puts players in the shoes of the "Glorious Leader" who has been successful in leading a revolution and gaining power in a Middle Eastern country. After gaining power, players must begin by rebuilding the People's Republic of Basenj while co-operating with your nearest neighbours and keeping your citizens happy. There are various different groups, including the liberals, nationalists, capitalists and religious fanatics. Each group has their own agendas and react differently to each of your policies and decisions, making Rogue State a game about trying to keep everyone happy while trying to bring stability and prosperity to your country.
Release Date: 2015
Price: £9.99
Where can I find out more information? Click Here.
 2) Democracy 4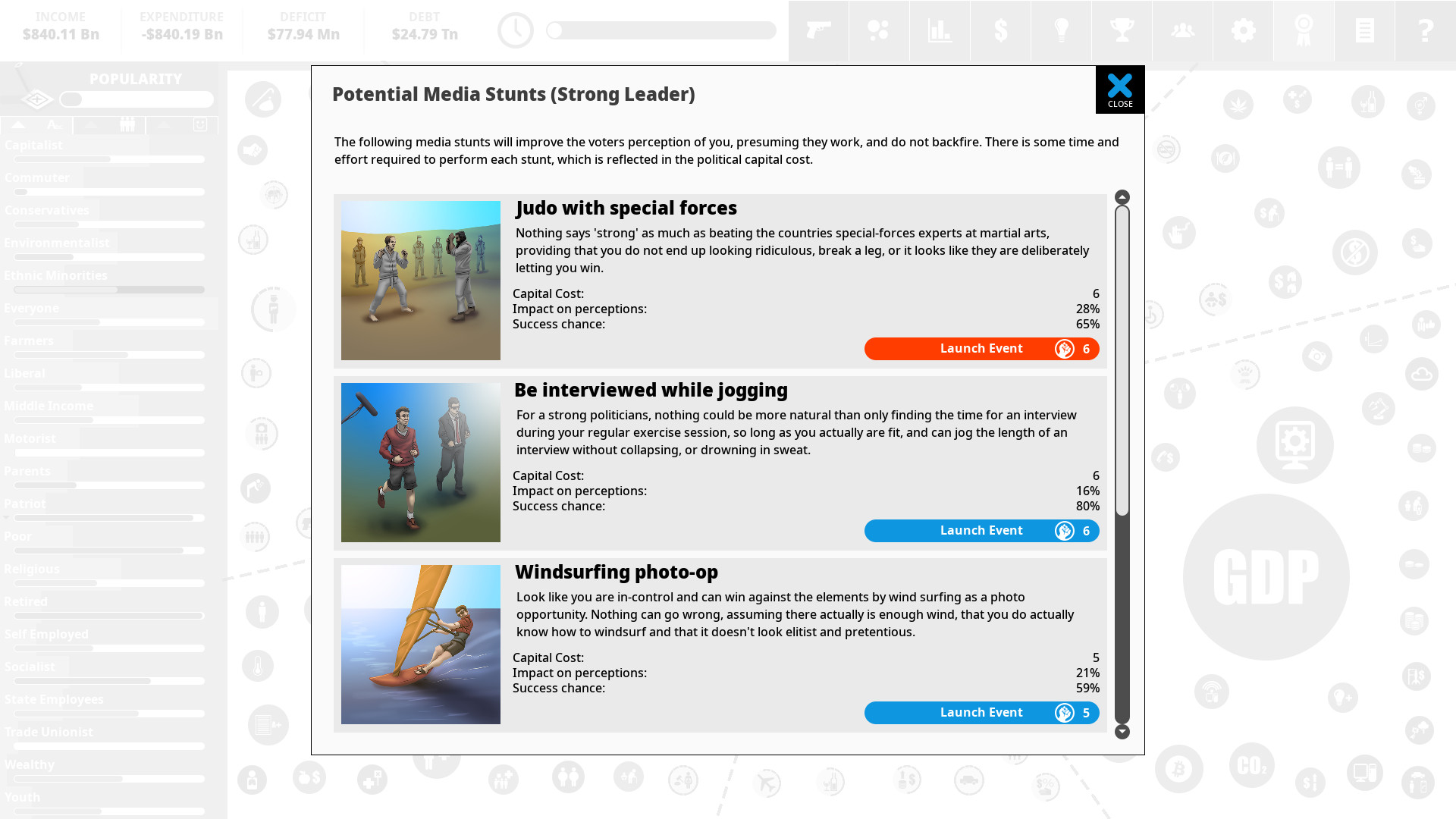 Democracy 4 is one of the best political games currently available and allows players to take the reins of a political party of their choice and become president or prime minister of their chosen country. From here it's your job to lead your country and keep your citizens happy, although that's easier said than done when they all want different things. It's therefore up to you to create a strong economy and improve the lives of as many citizens as possible while bringing down your national debt, crime and unemployment. There's also terrorism to deal with, as well as random events including global financial crashes.
Release Date: 2020
Price: £20.99
Where can I find out more information? Click Here.
1) Power & Revolution: 2021 Edition
For us Power & Revolution: 2021 Edition is the best political game that you can currently play in 2021. While a bit on the pricey side, what you do get is an in-depth simulation of the current world, featuring every country and the latest global conflicts and issues. However, not only can you play as the leader of your country, but you can also choose to play as the opposition and attempt to get yourself elected. Even better though, you can try and start a revolution and take control by force.
While there are of course some bugs and issues, nothing comes close to offering the size and realism of Power & Revolution, which is a shame as you feel that the game would benefit from having some tough competition. Alas, that's not the case but if you're looking for a game that allows you to take part in modern politics, Power and Revolution is the most in-depth political game on the market. The 2021 edition builds upon the additions made in the 2020 edition which included the Coronavirus pandemic, meaning that you'll now have the opportunity to see if you could do better than the current global leaders.
Release Date: 2021
Price: £39.99
Where can I find out more information? Click Here.
Some links provided in this article are affiliate links to Fanatical where Gaming Respawn may receive a small percentage of any sales. Fanatical is an officially approved seller who is partnered with hundreds of developers and publishers to sell their games and are often able to offer discounts.